Ngara Research Project
Information and Communication Technologies for remote communities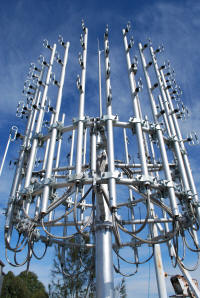 Ensuring all members of the Australian community have access to high performance and reliable broadband connection is a national priority in Australia. Remote or rural areas are of greatest concern in the digital economy as the local population typically have limited access to advanced broadband networks and services which can restrict the region's economic growth and lower our nation's social equity.
In recognition of this challenge the CSIRO, in July 2009, set up the Rural Wireless Broadband Network program to develop advanced wireless technologies through its Broadband for Australia research theme. The program obtained support from SIEF in December 2009. This funding has accelerated research and development of the two most promising technology demonstrators critical to delivering high speed broadband services to rural and regional areas.
The two technologies, NGARA wireless access with 50Mbps symmetrical data rate and 10Gbps microwave backhaul, will be used to create the necessary high-speed links over tens of kilometres for local access by communities and to connect these communities to the fibre component of the national broadband network (NBN), respectively. A number of patented CSIRO inventions have enabled the development of these technologies, providing the exceptional level of performance offered by the demonstrators and their cost-effective designs.

CSIRO is working with telecommunications equipment manufacturers who will licence the technologies for use in next-generation telecommunications systems.
For further information please contact:
Dr Jay Guo, CSIRO, jay.guo@csiro.au
Related links